Navigation
FUN 3 HOUR CRUISES
DEPART DAILY
Call our toll-free 24-hour whale watch reservation line:

888-942-5376
or
BOOK ONLINE NOW!
Free Photos
Book with Captain Dan today and get one of his spectacular 8X11 color whale photos featured above… and a memory to last a lifetime.
Oh, and by the way… sighting a whale is guaranteed year 'round! We don't call it an "adventure" for nothing! Plus you're helping to protect whales and their environment.
ARE YOU GETTING YOUR MONEY'S WORTH?
You may get only one chance this year to go out on a whale watching cruise, and you want it to be amazing. So choose wisely.
All captains are not the same!
Not just a drive-by whale watch
Whale watching vs. whale glimpsing
Ideally, you want someone who really knows whales! Dan McSweeney has focused on them every day, all year long, for decades.
Every winter/spring, when humpback whales return to Hawai'i, many cruise boats suddenly offer whale watching as part of their snorkel, dive or rafting tours. These "part-time" whale watch trips are typically sold at the many Visitor Information and Activity Discount locations. In spite of what their names imply, they are not connected in any way with the State of Hawai'i tourism promotion agencies. Instead, these outlets are usually linked with timeshare promotions, and may demand commissions from operators as high as 50%, meaning, you might be referred to a particular tour, not because it's the best, but because your agent can make the most profit.
Who should you trust?
Captain Dan McSweeney's Whale Watching Adventures is Kona's ONLY full-time and guaranteed whale watching tour, taking guests out to see the magnificent humpback whales, and also the fascinating native whale and dolphin species.
Instead of being recommended by one of the commission-driven outlets, we're recommended by ALL of the respected travel/tour guidebooks such as Frommers, Big Island of Hawai'i Handbook, Hawai'i for Dummies, The Big Island Revealed and others.
Welcome Aboard
So welcome aboard the specially designed "Lady Ann." Ride in comfort with ample rail space for photography and viewing. We feature BOTH sunny and partially-shaded decks with cushioned seats and back rests, and two private restrooms. We're USCG licensed and specialize in warm and personalized service.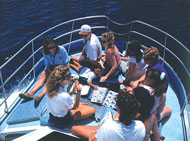 Every tour includes:
HYDROPHONES

to hear mysterious whale sounds



FREE

full color Guide to All Hawai'i's Whales souvenir



FREE

cold juices and snacks



FREE

8 X 11 color whale photo with direct booking



FREE

parking close to boat



PRICELESS

whale watching experience